RoboStreet – November 10, 2022
Surprising Inflation Data Supports U.S. Stocks
Following the latest CPI data release, all three major U.S. indices booked impressive gains while long-term yields, having recently reached record highs, sold off sharply on Thursday. This comes one week after the Federal Open Market Committee hiked interest rates by 75 basis points which triggered a market-wide selloff. Likewise, Tuesday's midterm election results supported markets as political clarity steadied a rocky start to the trading week.
The consumer price index report comes at the tail end of earnings season and provides much-needed support to the market. In the report, year-over-year inflation decreased to 7.7%, while core inflation declined to 6.3%. On a month-over-month basis, headline and core inflations were both 0.4% and 0.3%, respectively. U.S. stocks surged after the figures were released on Thursday, with all three major benchmarks closing at their highest point since 2020.
---
"I'm investing my own money in each and every stock as my AI platform identifies."
And remember we're not talking about day trading here. I'm looking for 50-100% gains within the next 3 months, so my weekly updates are timely enough for you to act.
---
On Friday, bond markets will be closed in observance of the Veteran's Day holiday. The following week, several key economic reports are due including October retail sales, import price index, and industrial production, as well as several housing reports. Earnings will also be limited with primarily retail names left to report. Walmart, Home Depot, and Tyson Foods are set to report quarterly earnings early next week while Nvidia, Cisco, Lowe's, Target, and Alibaba close the week in major-name reporting.
Apart from dropping long-term yields, the other biggest mover this week was the dollar which sold off following the CPI report. Overseas, the euro rose impressively while Japan, which has recently seen liquidity issues, sold off. Bitcoin, after selling off due to the FTX situation, was on the move higher today but still significantly lower for the year.
---
---
With tech booking impressive gains to close out the week, I've got my eye on one particular sector and one specific symbol I believe will be next to push higher. Before discussing that symbol, let's review the latest market conditions.
The SPY presently has overhead resistance levels at $385 and $400 – $SPY support is at $374 and then $367. I anticipate that the market will continue an upward trend in the next 4-8 weeks. As it stands, the short-term market is overbought and could pull back.
With this in mind, I would be market neutral at this time and encourage subscribers not to chase the market to the downside or upside. The $VIX is trading significantly lower, near the $23 level.
---
Looking at the latest trends within the market, earnings have continued to return with strong results which have supported markets impressively. While inflation remains high above estimates, today's report provided some optimism that inflation could be cooling – with the Fed's actions finally seeing some results. Still, it is too early to tell and recession concerns will linger.
While I do see a bear market resuming next year, I also believe we will see a short Christmas rally in the upcoming weeks. If markets are due to rally toward the end of the year, there is one particular sector that should be able to benefit from this rally and withstand potential pullbacks.
With a few positive events, such as the midterm election and CPI data, behind us and the holiday rally coming up, I am optimistic about one sector for the remainder of the year. There is no doubt that healthcare will continue to be essential in the coming weeks, regardless of market conditions. In contrast, this sector has been shown to trade higher even during inflation and recessionary periods.

CVS Pharmacy (CVS) is a symbol that occupies a unique place in both healthcare and retail. As of now, CVS is trading right above $99. Still, the symbol is trading closer to its 52-week low and offers significant potential for growth. CVS is down 6% for the year, with a 52-week range of $86-$111. When we reviewed our Stock Forecast Toolbox's 10-day predicted data, CVS showed a promising model grade "B." This means it is in the top 25% for accuracy in our data universe.
CVS is also showing a promising increase when reviewing its vector trend – suggesting that it will rebound after a few losing sessions. The recent trend of the symbol, along with its current levels, offers a good entry price for the name-brand health symbol. When reviewing vectors, we look for steady trends in one direction and CVS appears to be showing just that.

After we input CVS information into the Seasonal Chart, our model for long-term forecasts shows several more positive indicators. There is a big difference in price between the symbol's current value and its typical yearly seasonal price, which could mean that the prices will go up in the next few weeks. See CVS Seasonal Chart below: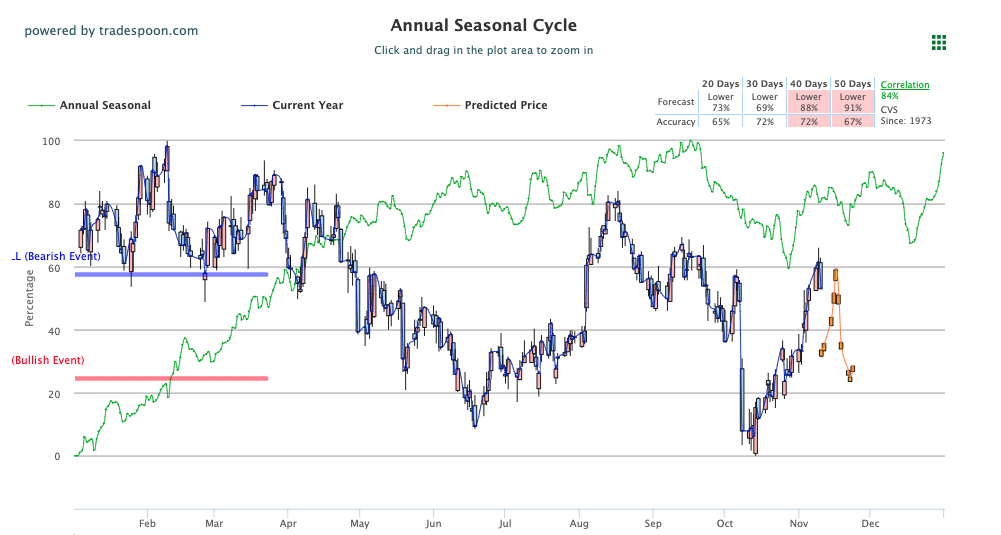 The market usually rallies towards the end of every year, and I think that this year will be no different. However, the bear market might resume next year, which means that CVS is currently in a great position to buy for any upcoming rallies. The midterm elections and the most recent CPI data acted as positive catalysts for the market. Based on my recent analysis of market trends, I am optimistic about CVS's future prospects.
This is what the power of AI can do for us, as well as for members of our RoboInvestor stock and ETF advisory service. Our proprietary AI platform identifies trades with a high probability of profits and cuts out all the noise and emotion that typically drives investor behavior.
We email subscribers an online newsletter every other week, over the weekend, that includes my fundamental commentary on the market landscape, a technical read on near-term market direction, an update on current positions, and one or two new recommendations to act on when the market opens Monday.
RoboInvesetor is an unrestricted investment service, in that I may recommend blue-chip stocks or ETFs that represent the major indexes, market sectors, sub-sectors, commodities, currencies, interest rates, volatility, and shorting opportunities through the use of inverse ETFs. Our model portfolio will hold between 12 and 25 positions, depending on market conditions. Lately, we've been entirely more cautious with a smaller number of stocks and ETFs.
Our track record is one of the very best in the retail advisory industry, where our Winning Trades Percentage is at 88.96% going back to April 2018.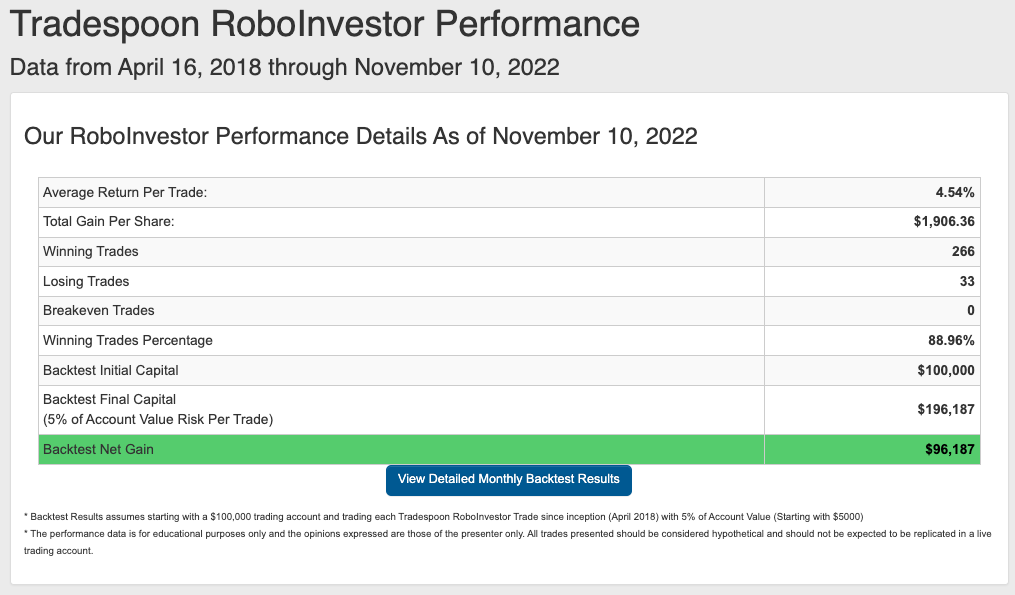 The market continues to shape up to be as unpredictable as I've seen since the pandemic broke out in early 2020 – and we just started Q4! Inflation, Fed decisions, geopolitical tension, and the Ukraine war – all factor into how money is being made and lost. Don't go at it alone in this investing landscape, but instead, put RoboInvestor to work today and add a big layer of confidence to your portfolio going into tomorrow. We'll be with you every step of the way!
"I'm investing my own money in each and every stock as my AI platform identifies."
And remember we're not talking about day trading here. I'm looking for 50-100% gains within the next 3 months, so my weekly updates are timely enough for you to act.
---
*Please note: RoboStreet is part of your free subscription service. It is not included in any paid Tradespoon subscription service. Vlad Karpel only trades his own personal money in paid subscription services. If you are a paid subscriber, please review your Premium Member Picks, ActiveTrader, MonthlyTrader, or RoboInvestor recommendations. If you are interested in receiving Vlad's personal picks, please click here.