One size does not fit all: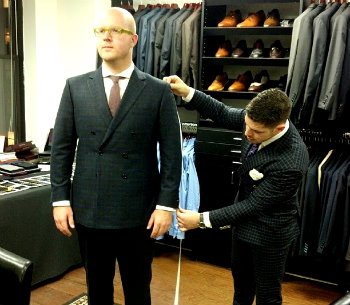 Give us your "investment measurements:"

And get the best trades custom-tailored to fit YOUR individual investment criteria!
Dear Trader:
Everybody's needs and preferences are a bit different when it comes to their money.
We understand that.  And that's why Tradespoon has figured out a way to let you design your own personal stock picking system.
See that box above?  It's just the first step in taking the measure of your investment profile.
Tradespoon will feed the information you enter into our forecasting system so you can harness its incredible power to zero in on the absolute best investments that fit your time horizon. . .your risk tolerance. . . and style of investing.
We call this highly-individualized system, Tradespoon's Trade Idea Tool.
It will cut your research time in half! You'll get high-quality trade ideas that align with your risk/reward profile, market outlook, and time horizon.
And most importantly my Tradespoon research system delivers results.
My Artificial Intelligence trading system has a 75% winning record with an overall gain of an incredible 1224%!
If you're skeptical, click the link at the end of this to see, trade by trade, exactly how taking advantage of Tradespoon's analytical forecasting systems helped me rack up that 1224% gain.
I began by deciding upon my personal goals and willingness to go outside the box.
Of course, your personal goals and preferences are no doubt different from mine and that's where this individualized tool is invaluable.
The Trade Idea Tool gave me recommendations that exactly fit my personal investment goals like a $10,000 custom-made suit.
Here's just a glimpse at some of profits I made in my own account:
Up 142% on Visa Inc.
Up 106% on Honeywell International
Up 69% on United Health Group
Up 56% on Facebook
Up 55% on Home Depot
Up 50% on Aetna
Up 50% on Check Point Software
Up 46% on Humana
Let me be perfectly clear… Those were all trades I made with my own money.
I'm counting on continuing my 75% hit rate and increasing my 1224% gain by utilizing my algorithmic and analytic research Trade Idea Tool.
Why not see for yourself what this incredible tool will help you do with your money.
I guarantee that if you give Trade Idea Tool a try, it can help you zero in on trades with the same 75% win rate!
Save $1,067 off the monthly rate!
Keep Reading For Details
Tradespoon's Trade Idea Tool is just the beginning.
Sign up now for a no-risk trial and you'll also enjoy full access to our complement of powerful Tradespoon Tools Membership.
All of our affordable, user friendly systems employ quant science to make it easy for every self-directed investor — whether novice or experienced — to find and manage high quality, high return trade opportunities typically reserved for the very rich.
Our software — honed over 15 years for unmatched predictive precision — leverages predictive analytics and hyper-fast data processing speed to find relevant patterns in voluminous stock data, winnowing out the trade ideas with the highest potential for profit.
Our expert analysts corroborate these ideas with technical and fundamental research. The result: an invaluable set of tools that, with a few clicks, helps you swiftly determine exactly what to trade, how and when, putting profits in reach.
There is simply no app, newsletter or alert service on the market that can match the statistical foundation or robust functionality of the Tradespoon platform.
Here's what else you get when you sign up for Trade Idea Tool:
Tradespoon's Tools Membership:
Stock Forecast Tool - Forecasts any stock, Forex and Futures' price trend and "Buy-Sell" Signals with stunning accuracy for both a short and long-term investment strategy.
Profit Calculator - Estimates the potential profit from an investment.
Company Screener - Searches the S&P 500 for companies with the most profitable return.
Portfolio Manager - Calculates the current value of your portfolio as well as uses a unique trade simulator to forecast 30, 90 and 180-day stock values.
MonthlyTrader - This Service is for the Swing Trader who wants to take full advantage of an active up or down market.
ActiveTrader - This service is for the busy trader who does not have the time to research their own trades, but still wants to remain active in the market each and every day.
Real-time ActiveTrader Text and Email Alerts - NEW - You can follow along with our expertly researched trades and be notified when we recommend new trades or adjust existing ones.
Forex Forecast Tool – This tool Predicts Forex trends with the highest accuracy on the market.  Trade the Euro, Japanese Yen,, British Pound and more… .
Futures Forecast Tool – Trade Futures contracts in real time, get our prediction on the contract lows and highs, predicted close.  
Portfolio Toolbox - For each of your portfolios, the platform will recommend a more optimal portfolio, using options to achieve the desired balance. Our rebalancing algorithm constructs these efficient portfolios by examining asset correlation and using the optimization scheme you specify.

Conduct asset reallocation using a mean-variance optimal allocation. Backtest the performance of various portfolio allocations using our historical asset database.

Trade Idea Tool - This tool alone can cut your research time in half! You'll get high-quality trade ideas that align with your risk/reward profile, market outlook, and time horizon.
Tradespoon Bulls/Bears - A complete weekly ranking of our hottest bullish and bearish stocks.
Probability Calculator - Is another tool that we use all the time, it will help determine the likelihood of an underlying stock trading above, below, or between certain price targets in a 50 day period.
Seasonal Charts - Avoid losses, determine which side of the market to trade, and see how stocks have reacted to past political, economic, fundamental, and technical conditions...simply by reviewing historical performance.
Stock Focus List - Quickly find the most highly liquid stocks on the market. This tool includes links to specific stock research reports, charts, and calculators to save you time.
Probability Calculator - Shows you the likelihood that a stock will trade below, above, or between certain price targets for a specified time horizon. This can make identifying entry and exit parameters much clearer...and more accurate for greater profits.
In addition to these Tools Membership features...you'll still have access to all of the trading educational content,
Live Education Webinars –You'll get the opportunity to watch as I trade my own money and you're welcome to join me, as I trade the Stock and Options Market LIVE!
Evening Videos – With each Premium Member Pick you'll have access to a 3 minute video detailing our pick as well as why we think it will deliver gains.
Weekly Live Strategy Roundtable Special Access- Join us each week for live, interactive trading strategy roundtable and exclusive members-only benefits.
PLUS... you're covered by our...
No-Questions-Asked "You Can't Lose" 30 Day Money Back Guarantee
Who am I?  And why should you trust me?
My name is Vlad Karpel, I am the founder and chief investment officer of Tradespoon.  By way of confidence building, allow me to toot my own horn a bit:
As I said at the beginning, thanks in part to my Tools system I posted a 75% winning record, and an overall gain of 1224% gain! 
If you feel that you are not getting the same returns, or for any reason at
all cancel within the first 30 days you will get a full and prompt refund…
Before founding Tradespoon in 2012, I was Executive Vice President and Head of Technology at OptionsXpress. The trading platform I developed handled some 300,000+ customers, processed more than 60,000 orders daily and powered company growth to over $1.6B in market capitalization.
Here at Tradespoon, we stand by our platform and proprietary technology.
In fact, we are so confident you'll love it, we offer a 30-Day Money Back Guarantee.
If you decide to cancel within your first 30 days (for any reason), we will refund your entire payment.
Try all of the robust features and tools on for size. If it's not what you imagined - or if you don't think it's "your cup of tea" - simply let us know within the first 30 days and we'll refund every penny.
No hassle...no hard feelings. We're that sure you'll love it.
Save $1,067 off the regular rate with this introductory subscription offer of only $697. That's more than half-off!
PLUS - sign up now for your 30-day no-risk trial and I'll show you how to use my all my Toolbox systems to consistently generate massive profits... without spending thousands of dollars on tools and technology and countless hours studying complicated trading set ups.
To Start Your No-Risk Trial Membership
Click on the Best Offer Button Below…
Your Satisfaction Guaranteed!
If for any reason you are not 100% satisfied, simply cancel within the first 30 days on the Tradespoon 'My Account' page for a refund of every penny paid. Stay aboard and you pay not the $2,500. . .$5,000...or even $10,000 you might expect to pay for this kind of service, but a deeply discounted annual fee of just $697, a savings of more than half-off the regular price, that's a savings of $1,067 off.
How can you say no to that?
Act now and you'll also get a $297 bonus
AT NO EXTRA COST
YES! Sign up now for your no-risk trial and you'll also get access to my LIVE weekly Strategy Roundtables. That usually cost $297 per ticket, but it's yours FREE if you act now.
DON'T WAIT - CATCH THE NEXT WAVE OF BIG PROFITS
My indicators are telling me that this volatile market is about to offer the savvy trader some significant profit opportunities. I'm setting up now to pull the trigger and I hope you'll be there trading alongside me.
Click NOW on your choice below to get started.
Yours for bigger, faster profits –
**URGENT: This Limited-Time Offer Expires in Less Than 48 Hours**
Yes! Sign up now for your no-risk trial and you'll also get access to my LIVE weekly Strategy Roundtables. That usually cost $297 per ticket, but it's yours FREE if you act now.