"Here's how I turned every $5,000
trade into an average $1,500 gain
every single day!"
Updated March 20, 2019

| | |
| --- | --- |
| Winning Trades | 1533 |
| Losing Trades | 488 |
| Breakeven Trades | 24 |
| Average Winning Trades | 75% |
| Average Return Per Trade: | 25.25% |
| Total Gain Per Share: | $257.53 |
And now you Can Do It Too!
The Stock Forecast Toolbox makes it easy!
It's simple… it really works… and it's so easy to use the Toolbox it will have you trading like a super all-star pro.
Dear Investor:
My money is where my mouth is.
If I make money, you make money.
And believe me  I've made millions trading this system.
In fact, I probably have a lot more of my money riding on this investment tool than you may want to start out with.
Just so you know...
It can help you turn your $100,000 into $1,224,318 !
* Backtested Results assumes starting with a $100,000 trading account and trading each Tradespoon Live Trading Room Trade since July 2016 with $10,000 per trade
Now, I don't know your personal investment situation nor your trading experience.
But, even if you've got $1,000 or even $1,000,000 to invest, I would be amiss to advise you to jump in with both feet.
It wouldn't be prudent.
But I do hope I can give you enough confidence to take a test run and to try the exact same system I use every day to trade my very own money...the same exact system I use on a daily basis that generated a return of 1224.3% in the last 2 years.
When back tested with an initial investment of $100,000 it has shown that it can help to turn that into $1,224,318 in the same period.
It's called Stock Forecast Toolbox, and to make it as irresistible as possible for you to try it, I'm willing to do three things to win your long-term allegiance:
FIRST – use the system for 30 days absolutely risk free. 
Let's see... if I made a gain of 1224.3% in 24 months... you should be able to grab a quick 25.2% gain on your money in just one month, right?  If you follow the system (it's easy) and did not make a quick 25.2% on any trade or more ... or if you just simply decide for any reason this isn't for you... just cancel for a full and prompt refund.
SECOND – you get the service for 1/10th what you'd expect to pay!
Did you ever wish you had a personal money manager, a big-name investment advisor?  One of those Wall Street big shots who handles billions and billions for very wealthy private clients?
Or maybe you've wished you had the million-dollar entry fee (your home doesn't count) needed to get in on one of those allegedly millionaire-maker hedge funds?
Well...if so, you probably know that the kind of personal hand-holding and real-time, actionable trading advice you're about to read about comes with a price tag of $5,000 and up, not to mention a juicy bite out of your profits.
And when you understand what kind of real-time, easy-to-execute guidance and advice you'll get from my Toolbox, it will blow you way.  If you don't make ten times what you're paying for Toolbox each month...
Just cancel!
THIRD – If you act now, I'll give you a log-on code so you can get in on our LIVE weekly Strategy Roundtables.  That usually cost $297 per ticket, but it's yours FREE if you act now.
Before I get into the details, let me just say again that I use the Stock Forecast Toolbox to trade my own money, and...
Over the past my AI has a track record that is second to none 1224.3%...
That means, if you had started with $5,000, you'd now be sitting on $61,216!
Okay...let's get to it.
What's so great about this Stock Forecast Toolbox service?
The Tradespoon Stock Forecast Toolbox is a sophisticated, complex market-proven analytical system that reliably forecasts a stock's minute by minute short-term price trend, as well as where it will be in 10-day and 6-month.   
The Stock Forecast Toolbox also predicts turning points, movement vector direction, and it even give you "Buy-Sell" Signals with stunning accuracy for both a short- and long-term investment strategy.
There is no comparable tool on the market for self-directed investors.
So...let me ask you...how do you decide where to put your money?
Do you do your own research?
Maybe you listen to the talking heads on TV, or you read up on what the investment pundits are recommending.
 But, most importantly, how's you win/loss ratio?
Listen, I sympathize.  I am a self-directed investor, and for years I slaved myself cross-eyed agonizing over every trade I made.
Now I do it the easy way.
I'm still in control, but I've got some heavy-duty help doing the grunt work for me.
I've got the world's easiest-to-use, and best-performing stock trading system.
I call it The Stock Forecast Toolbox and since July of 2016 some 75.0% of my picks have been winners.  That's how it can help you turn your portfolio of $10,000 into $92,263 or $100,000 into $1,224,318.
And I'd love to show you how utterly simple it is to use and how you can do it too. 
I'm sure that you're bombarded with all kinds of come-ons for trading schemes all promising you over-the-moon results.
My pitch is simple.
You've simply got to try this Stock Forecast Toolbox yourself (on a no-risk trial basis) to
appreciate...
How simple and easy it is to use.
What a tremendous difference it will make in your profits.
How it feels when 75.0% of your trades are profitable
How quickly your first $5,000 will grow to $61,216 or more
Who am I and why should you believe me?
My name is Vlad Karpel, I'm the CEO, Chief Investment Officer and Chief Architect of Tradespoon, the company behind this Stock Forecast Toolbox service.
By way of confidence, you should know that before founding Tradespoon in 2012, I was Executive Vice President and Head of Technology at OptionsXpress. Maybe you've heard of it?&nbsp Charles Schwab now offers its trading clients that very same exact system, the one I built, as their preferred trading tool.
During my tenure at OptionsXpress, the trading platform I developed handled some 300,000+ customers, processed more than 60,000 orders daily and powered company growth to over $1.6B in market capitalization.
I also served as CTO of Mediaocean and as a consultant to and an investor in other early-stage financial technology companies.
So...I really have been around. I know how this game is played
But what counts now is that I have taken those 15 years of in-the-trenches experience and put them to use trading my own money.
Yup, I took everything I learned at OptionsXpress, added my own proprietary AI technology and algorithms and started trading for myself.
And the system I used to realize that 1224.3% profit in just 2 years is what I call my Stock Forecast Toolbox.
Whether you are a day trader, or a swing trader more interested in where an investment will be in ten days or six months, this easy-to-use system will work for you.
If you want to get into the weeds...the Stock Forecast Tool uses the very latest neural network technology together with digital filtration and statistical spectral analysis for the final decompression of company trend from market noise.
Behind the scenes, our sophisticated algorithmic system leverages predictive analytics, sophisticated algorithms and hyper-fast data processing speed to find relevant patterns in voluminous stock data, winnowing out the trade ideas with the highest potential for profit. Our team of trading industry veterans then completes technical and fundamental analysis on these equities, which you can review at any time.

In layman's language, the Stock Forecast Toolbox enables our computers to attain information from a historical set of data, find a mathematical pattern and predict stock's price trend over a time period of 1 hour to 10 business days, to 6 months.

The goal of this tool is to maintain predictions with the highest possible accuracy.
It all starts with picking the best stocks.
Stock Forecast Toolbox has you covered there, as well, with something we call our Company Screener.
Invaluable.
But, it's even better if the stock you're watching is a winner to begin with.
Stock Forecast Toolbox has you covered there, as well, with something we call our Company Screener.
The Company Screener can help you identify companies with the greatest "Annual Growth Rate" and the best likelihood of meeting your investment goal.
To begin, the Company Finder analyzes every company from S&P 500 list . It looks at each stock's accumulated "Profit/Lost" for 300 consecutive business days and computes the annual growth rate (Relative Profit %) for every company and industry.
The Company Finder is a completely automatic software program that simulates a $1000 trade for every stock in the S&P 500 and then follows and constantly updates using the Stock Forecast Toolbox's daily update and 10 days predictions trend.
Then according to what it sees, it makes an analytical decision whether to buy, hold or sell.
Or You Can Let ActiveTrader Service Tell You
What Stocks or Options to Buy
This Tool is great for the trader who does not have the time nor experience to research their own trades, but still wants to remain active in the market!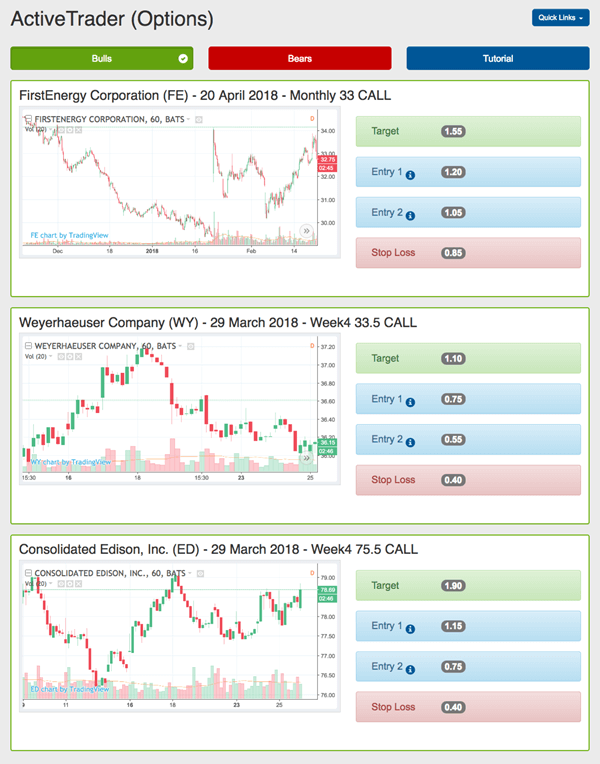 Each day you login, you will see the following:
Top 3 Bullish Stocks
Top 3 Bearish Stocks
Top 3 Bullish Options
Top 3 Bearish Options
Each Stock and Option pick includes an Entry Price, Target Profit, and Stop Loss
The idea behind this service is simple. Regardless if you are a Bullish or Bearish Trader, simply look at our chosen stocks for that day and place your orders in a "Set-it and Forget-it" fashion.
Set your entry order and wait for it to trigger. Once triggered, set your target profit exit as well as your stop loss exit.
Once your target or stop has been hit, just repeat the process throughout the trading day. You can trade the same stock multiple times per day using the same Entry Price.
It works. You've simply got to try it to see the compounded profits add up
Go Ahead, Be Skeptical!
The best investors always want to know what if?
And we make it easy for you to double check your strategy using our Profit Calculator. This is still another Stock Forecast Toolbox feature that enables you to see what your hypothetical profits might have been if you had traded by using our forecasting technology
Profit Growth Rate Calculator is another completely automatic software program that you can use to simulates virtual trade with a specific initial investment amount and then tests the analytical trading strategies against company actual historical data base.
Profit Growth Rate Calculator will analyze the stock forecasting trend of the chosen company to make a decision: Buy, Hold or Sell; according to predicted trading signals, accumulate "Profit/Lost" for 300 days of simulated daily "virtual trade" and compute the "Annual Growth Rate".
Profit Growth Rate Calculator is a "virtual analytical trader" with "Buy-Low, Sell-High" investment strategy.
Stock Forecast Toolbox makes it easy for you to stay on top of things
Stock Forecast Toolbox also includes our unique Portfolio Manager that analyzes and incorporates logical trade simulator and advanced stock-forecasting technology into the most comprehensive and useful report you've ever seen.
The first step allows you to put in each company that you currently own stock in and calculate the basic value of your portfolio based on the time when you bought the stock.
The Market Value shows you the current value of your shares for "today's" business day.
The Estimated Value analyzer displays how much money you would have gained if you were to use the Buy and Sell signals that were predicted from the date you purchased the stock until the present date.
Next three columns calculate the forecasted average price of the stocks for one, three and six months after "today's" business day.so you can decide what's the best move to make right now.
Sign up now for your 30-day no-risk trial and I'll show you how to use my #1 Secret Stock Forecast Tool to consistently generate massive profits... without spending thousands of dollars on tools and technology and countless hours studying complicated trading set ups.
Let me show you how easy it is to add significant and reliable take-home income from your stock portfolio...without spending 8 hours in front of a computer every day?
If you would like to CONSISTENTLY generate an extra $900, $1,400, or $2,000 per month in profits each and every month without having to be a glued to your computer all day then this no-risk 30-day trial offer is for you.
I call this system The Stock Forecast Toolbox. It's cutting edge technology, but it's designed to make even the most sophisticated trades easy and simple to execute for maximum profits.
And now, you can test drive this quantitative and qualitative information service.
If you don't see an immediate and impressive increase in both winners and size of profits, just cancel within the first 30 days for a full and prompt refund of every penny paid.
Tradespoon's Stock Forecast Toolbox is an easy-to-use, real-time trading service. It offers you a very cohesive and easy-to-use platform that makes it easy to cash in on breaking trade developments.
I use it myself and I racked up a gain of 1224.3%!
No matter your level of experience, and no matter what you may be using now, This Stock Forecast Toolbox will take your trading and your profits to the next level.
Sign up now and save $1,027!
You probably know that with a money manager or a hedge fund you could end up paying $2,500... $5,000...or even $10,000 or more for this kind of service. But if you act now, you can get an entire year of everything the Stock Forecast Toolbox offers for just $497.
That's a tremendous savings of $1,027 off the billed-monthly rate of $127, and you get the same 30-day guarantee – if you're not up at least 25.2% on average per trade at the end of the 30-day trial, just cancel for a prompt refund of your $497 membership.
Here's a brief outline of what you start getting with your 30-day,  no-risk trial:
It's almost like having a 24/7 live-in trader standing by and monitoring the markets:
Stock Forecast Tool - Forecasts a stock's price trend and "Buy-Sell" Signals with stunning accuracy for both a short- and long-term investment strategy.
Profit Calculator - The Profit Calculator will estimate the potential profit from investment.
Company Screener - The Company Screener is a unique tool to find companies with the profitable returns.
Portfolio Manager - The Portfolio Manager combines Tradespoon investment strategies into a single report.
 ActiveTrader - Automatically gives you its top 3 picks for short and long trading.
Active Trader Text and Email Alerts - Be notified in real time when we place a new orders or adjust existing ones.
In addition you also get
Live Education Webinars - You'll get first shot at our limited-space live Webinar.  You'll get the opportunity to watch as II trade my own money and you're welcome to join me, as I Trade the Stock and Options Market LIVE with over 80% success rates!
Virtual Trading Tool - Practice trades without risk. As no actual money changes hands here, this tool offers a completely risk-free environment in which to practice executing the trade ideas you generate using Tradespoon. Exit positions at any time. The tool will track the return of your individual trades. In addition, you can add more virtual cash to your account at any time.
Proprietary Case Studies - Complete fundamental and technical research prepared by our team of Tradespoon experts for every stock in the universe of equities we continually monitor.
Evening Videos - Each evening, you'll have access to a 3 minute video detailing our next day's pick as well as why we think it will deliver gains.
Tradespoon Portfolio - From one easy-to-read screen, you can view all of our current open positions and choose specific details, market research, analysis reports, and evening videos.
Weekly Live Strategy Roundtable - Join us each week for live, interactive trading strategy roundtable and exclusive members-only benefits.
To Start Your No-Risk Trial Membership
Click on the Best Offer Button Below…
Your Satisfaction Guaranteed!
Whether you sign up for a full year, or go monthly, if for any reason you are not 100% satisfied, simply cancel within the first 30 days on the Tradespoon 'My Account' page for a refund of every penny paid. Stay aboard and you pay not the $2,500. . .$5,000...or even $10,000 you might expect to pay for this kind of service, but a deep discounted annual fee of just $497, a savings of $1,027.
How can you say no to that?
Act now and you'll also get a $297 bonus
AT NO EXTRA COST
YES!  Sign up now for your no-risk trial and you'll also get access to my LIVE weekly Strategy Roundtables.  That usually cost $297 per ticket, but it's yours FREE if you act now.
DON'T WAIT -  CATCH THE NEXT WAVE OF BIG PROFITS
My indicators are telling me that this volatile market is about to offer the savvy trader some significant profit opportunities.  I'm setting up now to pull the trigger and I hope you'll be there trading alongside me.
Click NOW on my photo below to get started.
Yours for bigger, faster profits –


Vlad Karpel
Founder and Chief Investment Officer
**URGENT: This Limited-Time Offer Expires in Less Than 48 Hours**
YES! Sign up now for your no-risk trial and you'll also get access to my LIVE weekly Strategy Roundtables. That usually cost $297 per ticket, but it's yours FREE if you act now.