This no-risk trial will empower you with the same incredible volatility tested "tools" I use to trade my own money!
Dear Trader:
If this volatile market has you in knots... you're gonna love this!
This is your no-risk, no-strings attached opportunity to test drive a just-updated, iteration of one of the most advanced and sophisticated high-tech stock trading system out there today.
That's some statement!
But the numbers don't lie nor are they exaggerated.
And, even in this wild market, this incredibly accurate program has an 84.9% winning record!
It's easy, even fun to use, and it's astonishingly correct.  You'll see when you play with it, that there's nothing else quite like it.
Tradespoon's Forecast Toolbox is the NEWEST VERSION of the ultra-high-tech, limited-access, secret weapon that's been helping select savvy investors since January 2020!
As an active investor, I'm sure you get pitched by quite a few trading tool products that claim to provide the extra edge needed in this up-and-down market.
That's why I invite you to come along with me as we take Tradespoon's Forecast Toolbox for a test spin. 
Tradespoon Forecast Toolbox is a daily stock service that combines algorithmic and fundamental analysis to accurately predict where any stock's trading price will be...
In one hour...
At any point during the day
At the end of the day...
In a week...
Even ten days out.
Not only that, it also pinpoints a stock's turning point, near-term as well as long-term so you can trade in and out with maximum profit and stability.
The Tradespoon Forecast Toolbox will forecast any Stock's Price Trend, Its Turning Points, Movement Vector's Direction, and "Buy-Sell" Signals with stunning accuracy for both a short- and long-term investment strategy
I use this powerful system to trade my own money because I know it's way more capable than my human brain or any other program out there.
I'll be happy to show you, trade by trade, how the Forecast Toolbox is at the core of
Returns since January 1, 2020 ... 805.3% *!
That can help to turn $100,000 into $905,292! *
Nothing else even comes close!
No matter what your level of experience, and no matter what you may be using now, the Forecast Toolbox can be an invaluable tool in any trader's arsenal.
There is no comparable tool on the market for self-directed investors
Our stock picking toolbox is at the core of our Tradespoon trading platform. This tool set delivers highly accurate and market proven forecasts that are produced by artificial intelligence neural networks which constantly self-learn to apply algorithms to chaotic market data (especially during times of volatility).

The Stock Forecast Toolbox will give you access to the stock and options trend prediction engine derived from the historical set of data for over 100,000 securities. It finds mathematical patterns and predicts a stock's price trend over a time period of 1 hour to 10 business days to even 6 months.
I believe when you give the Forecast Toolbox a RISK-FREE test drive, you'll find it gives you a very cohesive and easy-to-use platform, making it easy to identify red-hot trading situations in a quick and succinct manner.
It's all based on my long experience and testing criteria.
Who am I and why should you care?
My name is Vlad Karpel, I'm the CEO and Chief Architect of Tradespoon.
By way of confidence building, before founding Tradespoon in 2012, I was Executive Vice President and Head of Technology at OptionsXpress.  During my tenure, the trading platform I developed handled some 300,000+ customers, processed more than 60,000 orders daily and powered company growth to over $1.6B in market capitalization.
I also served as CTO of Mediaocean and as a consultant to, and investor in, early stage financial technology companies.  I devoted 15 years to building and optimizing the core Tradespoon algorithm.
And it's constantly reshaping itself, teaching itself, as A.I. monitors the markets and adjusts accordingly.
The Forecast Toolbox I'd like you to play with, is the very latest iteration, carefully tuned for this frustrating volatile market.
REMEMBER... I'VE GOT SKIN IN THIS GAME!
Here's a brief outline of what you get when you put Forecast Toolbox to work:
Forecast Toolbox
The Forecast Tool predicts how a stock's price trend is moving in the short and long-term future. In other words, it references a historical set of data, finds a mathematical pattern, and predicts the stock's price trend over a time period of 1 hour to 10 business days.
The Forecast Toolbox is like a Crystal Ball!
It takes market data and runs it through complex algorithms and quantitative analytics that work behind the scene breaking it down into extremely useful information.
You don't need to be a math nerd to understand that the Forecast Toolbox gives you everything you need to determine which way a company's stock price is trending during any given time period.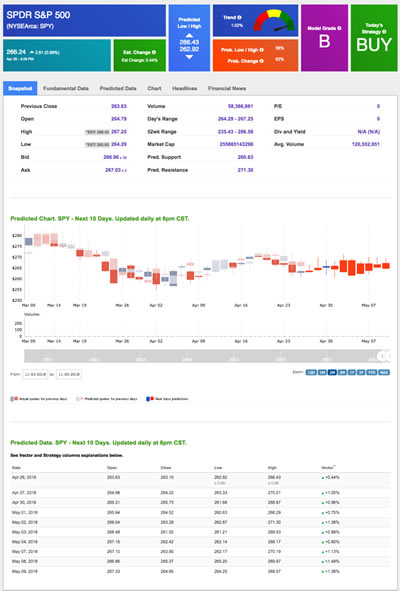 Profit Calculator
Profit Calculator shows what your hypothetical profits might have been if you had traded by using our forecasting technology
Profit Growth Rate Calculator is completely automatic software that simulates virtual trades with a specific initial investment amount and then tests the analytical trading strategies against company actual historical data base.
Profit Growth Rate Calculator will analyze the stock forecasting trend of the chosen company to make a decision: Buy, Hold or Sell; according to predicted trading signals, accumulate "Profit/Lost" for 300 days of simulated daily "virtual trade" and compute the "Annual Growth Rate".
Profit Growth Rate Calculator is a "virtual analytical trader" with "Buy-Low, Sell-High" investment strategy.
Company Screener
You'll have access to four different proprietary stock screeners for short and long-term outlooks:

Company Finder - Tradespoon's long-term analysis of S&P 500 sectors and their components helps you find companies with high projected annual growth rate based on our backtest results of our own analysis of long-term market data.
Short-term Forecast - Detects companies which have the best fit according to our algorithm in terms of price direction for the next trading session.
Stocks and ETFs with Model Grade A or B – Finds companies which have the best fit according to our algorithm in terms of near-term predicted low/high prices showing a Model Grade of A or B.
Vector Screener - Allows traders to find a company based on its overall expected growth rate over the next 3-6 months.
Portfolio Manager
Keep everything organized with Portfolio Manager, enter your portfolio holdings and PM will keep track your active assets.
Tradespoon portfolio manager can give you sell alerts on every stock.  It analyzes and incorporates unique logical trade simulator and advanced stock-forecasting technology in the most comprehensive and useful report.
The Estimated Value analyzer displays how much money you would have gained if you were to use the Buy and Sell signals that were predicted from the date you purchased the stock until the present date.
ActiveTrader

This is the perfect service is for the busy trader who does not have the time to research their own trades, but still wants to remain active in the market each and every day.  This is how we generate great gains.  You'll know exactly what I'm doing with my own money.  What stocks and options I'm trading daily with all of my exact entry and exit parameters, everything you need to successfully place the trade.
Each day, our expert traders use Tradespoon Tools to provide the Top Bullish and Bearish Options, each with an Entry Price, Target Profit, and Stop Loss.

Top 3 Bullish Stocks
Top 3 Bearish Stocks
Top 3 Bullish Options
Top 3 Bearish Options

Each Stock and Options Pick includes an Entry Price, Target Profit, and Stop Loss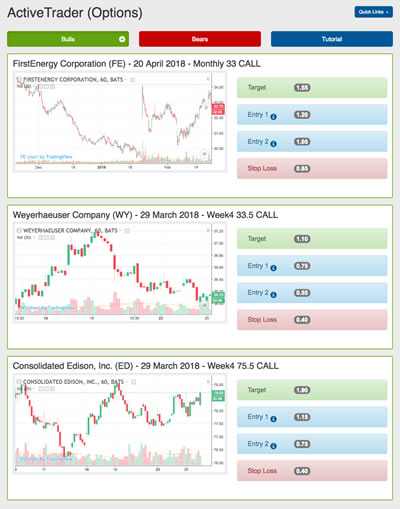 Daily Active Trader Text and Email Alerts

You can follow along with our expertly researched trades and be notified on daily basis when new picks are posted.
This tool alone can pay for your subscription multiple times over.
---
The Forecast Toolbox is almost like having a 24/7 live-in trader standing by and monitoring the markets:
In addition, you also get:
Live Education Workshops - You'll get first shot at our limited-space live weekly Active Investor Workshops. 
Weekly Live Strategy Roundtable - Join us each week for live, interactive trading strategy roundtable and exclusive members-only benefits.
"IF ALL OF THAT BOGGLES YOUR MIND, DON'T WORRY, I'LL SHOW YOU HOW SIMPLE IT IS TO PUT ALL THAT TRADESPOON POWER TO WORK"
Try it for 30 days RISK-FREE. 
Keep all the profits you make even if you opt-out!
As I said before, I'm happy to show you every trade - winners and losers - made since January 1, 2020 when my technology racked up those 805.3% * gains, so you can judge for yourself whether this is for real.
What's more, I am so confident our new Tradespoon Forecast Toolbox will outperform by a huge margin any trading system you've ever used, that I'm totally comfortable making this simple guarantee:
If, at any time during the next 30 days you're not a 100% enthusiastic fan of the system...
If your gains are not 50%... 100%... even 200% greater... even if you just decide for any reason at all you want out...
Just email me and I'll refund your money.  Every penny!
Okay, now you're probably thinking... this must be one of those super expensive, hedge-fund type trading services that's going to cost $3,500 or $5,000 a year or take a percentage of my gains.
Nope!
For a limited time only, the introductory subscription is a very affordable and modest $497 a year (that's $200.00 off the regular price). 
But wait a second...
I'm going to go all out and make you an offer you can't resist.
Today, when you click on the link below, you can...